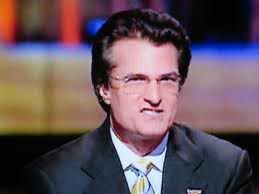 Mel Kiper, your 2013 BQB Mock Draft Champ!
Thursday
, we posted 6 experts' most recent mock drafts.
Last year
, Peter King beat the field of 6 to take down the title. This year, Mel Kiper of ESPN takes the title. Final scores were as follows (see Thursday's post for scoring):
1. Kiper: 124 points
2. Mike Mayock (NFL.com): 112 points
3. Rob Rang (CBS Sports): 108 points
4. Todd McShay (ESPN): 101 points
5. Peter King (Sports Illustrated): 97 points
6. Evan Silva (RotoWorld.com): 94 points
Kiper nailed 4 of the first 5 picks, and 6 of the first 8, best of the field by both metrics. Congrats to Mel, who's likely gone back into hibernation after celebrating his personal Christmas this weekend.
A few other thoughts from the draft:
1. The
Vikings
were the big first round winners, snatching up Florida DT Sharrif Floyd at 23. 5 of the 6 mock drafts had Floyd going 3rd overall to the Raiders, but the Dion Jordan trade shook everything up and Floyd ended up falling another 20 spots. Stats, Inc. rated Floyd as a 95, tied for the third-best in the draft.
2. The
Bengals
also got a big break when Notre Dame TE Tyler Eifert fell to them at 21. Stats had Eifert tied for 11th-best in the draft, and, as we examined last year,
your team should be psyched if it picks a tight end
. (Incidentally, the subject of that post, Coby Fleener, had a disappointing, injury-riddled season, but still started 9 games and played in 12. The Colts went 8-4 in those games, 8-3 when he had a catch.)
3. The
Cowboys
and
Bills
win the award for biggest first-round reach. Dallas' selection of Travis Frederick (C, Wisconsin) gave them the 78th-best player in the draft . . . in the first round. As for Buffalo, they apparently got "their guy" in EJ Manuel, the first QB taken in the draft. Problem is, Stats had Manuel ranked as the 6th-best quarterback in the draft. You really have to think the Bills could have gotten a similar QB -- even Manuel -- in the second round or later. Poor value there for Buffalo.
Facebook: facebook.com/BackupQuarterbackBlog