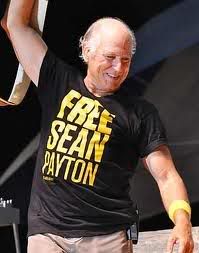 Jimmy Buffett might need a new t-shirt for Jonathan Vilma . . .
Roger Goodell came down hard today
on 4 key players from the Saints' 2009 Super Bowl run. Goodell suspended LB Jonathan Vilma for the season, DT Anthony Hargrove (now a Packer) for 8 games, DE Will Smith for 4, and LB Scott Fujita (now a Brown) for 3. This on the heels of a season-long suspension for head coach Sean Payton, a 6-game suspension for interim head coach Joe Vitt, an indefinite ban for former DC Gregg Williams, and a report that GM Mickey Loomis was eavesdropping on opposing coaches' conversations at the Superdome.
It would seem that new defensive coordinator Steve Spagnuolo now finally knows what he's dealing with. At first glance, the suspension of 4 players for 31 games might seem too much to overcome. After the jump, we assess why it's unlikely to be a big deal . . .


1. Only 2 of the players are currently on the Saints' roster.
Fujita and Hargrove are problems of the Browns and Packers, respectively, so the Saints only lose Vilma and Smith from last year.
3. They're used to winning without Jonathan Vilma.
Including the playoffs, Vilma started 13 games last year. The Saints went 9-4 in those games. He sat
5 games with a knee injury
.
They went 5-0 in those games.
In the games Vilma played, the Saints gave up 29 points per game. In the games he didn't, they gave up 23.
Third-year pro Jonathan Casillas started in his place and had 3 sacks and 30 tackles. Throw in the fact that the Saints signed 3 LBs in free agency, and they appear to have figured something would happen with Vilma.
4. The schedule is kind for the 4 games Will Smith is out.
While Smith is hanging out with
Uncle Phil and Jazz
, the Saints' schedule should be cupcake city. Their first 4 games, with 2011 records in parentheses:
Week 1: REDSKINS (5-11)
Week 2: at Panthers (6-10)
Week 3: CHIEFS (7-9)
Week 4: at Packers (15-1)
Obviously things can change wildly from year-to-year, but if last year is any indication, the Packers should be the only really truly tough game, although it should be noted that the
Panthers had the NFL's 4th best offense
last year according to Football Outsiders. But don't forget that this is a team that went 13-3 last year, was unbeaten at home, one that put up 34 points per game last year (2nd in the NFL to the Packers). They should still be competitive games; it just might have to be even more of a shoot-out than before (Vegas is adjusting its over/under's upward as we speak).
The Saints didn't do themselves any favors in the draft -- they only had five picks, and only 2 on defense, DT Akiem Hicks (no relation to Hakeem Nicks) in the third round and S Corey White in the fifth. Neither could conceivably replace Vilma (a linebacker) or Smith (a DE). But the fact is that things shouldn't be that much worse without Vilma and Smith for a quarter season.
In reality, the message sent by this suspensions to the rest of the league is far more significant than the penalties to the players themselves.
Vilma recently changed his Twitter avatar
to the Sports Illustrated cover below. When deliberate injury to other players isn't just accepted, it's embraced, it's time for all of us as a culture need to pause and look around. Roger Goodell has made us do that with the suspensions. Hopefully the message will be received.
Think we're crazy? Think we're brilliant? Tell us in the comments!
Like us on Facebook at facebook.com/backupquarterbackblog
Follow us on Twitter at twitter.com/TheBackupQB