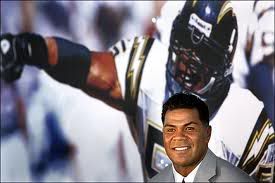 TMZ is reporting that former Chargers, Dolphins, and Patriots linebacker Junior Seau has
died of a self-inflicted gunshot wound to the chest
. Backup Quarterback Blog extends its deepest condolences to Seau's family and friends.
Many recent NFL fans will remember Seau in the twilight of his career. From 2003 onward, he started only 42 games in 7 seasons for the Dolphins and Patriots. But for his first 13 seasons in San Diego, he was a beast. He went to 12 Super Bowls and was first-team All-Pro 6 times. Pro Football Reference ranks him as the
greatest defensive player in Chargers history
.
My personal memory of Seau was in the
1994 AFC Championship game
against the Steelers. I'm a Steelers fan, and I was 12 at the time, an age when sports mattered a little too much. Seau played huge for a Chargers' defense that held Pittsburgh to 13 points and just 3 in the second half. I was obviously not happy with the outcome, but I remember that Seau was all over the field during the game. Somehow, I also specifically remember how gracious in victory he was in his post-game interviews that day. Seau went to the Super Bowl that season and went again with the Pats in 2007. His teams lost both games.
Junior Seau was 43.