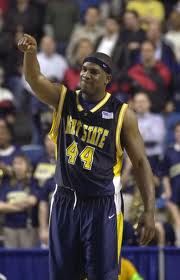 Can Antonio Gates push the Chargers into the playoffs the way he did Kent State?
If I asked you to name me the AFC playoff teams if the season ended today, presumably you'd be able to name the Chiefs, Patriots, Colts, and Bengals as division leaders and the Broncos as arguably the best team in the conference (despite being a game back of Kansas City). The current 6 seed? The San Diego Chargers. In fact, the AFC playoff picture is looking reasonably set at this point with the exception of that 6 seed. In fact, the 5 teams you would have mentioned all have a 90%+ chance of making the playoffs according to
Football Outsiders
, and all have either a 2+ game lead in their division or are 2+ games ahead of the nearest wild card competitor.
While the Chargers are leaders in the clubhouse for the 6th spot, it's a motley crew in that race:
Chargers: 4-3, 27% chance of playoffs (Football Outsiders)
Jets: 4-4, 22% chance of playoffs
Dolphins: 4-4, 7% chance of playoffs (before Thursday night win vs. Cincinnati)
Titans: 3-4, 18% chance of playoffs
Raiders: 3-4, 4% chance of playoffs
Bills: 3-5, 13% chance of playoffs
Browns: 3-5, 7% chance of playoffs
Ugh. What a group. While being the best of those 7 is a little like being a one-eyed man in the land of the blind, the Chargers will need to take care of business with their winnable games. They have Denver and Kansas City twice each, along with Cincinnati, but aside from that, they don't play a team over .500. Which is why Sunday's tilt with Washington -- one of those "west coast travels to east coast" games -- looms large. And with 2-5 Washington sitting just a game and a half out of first in the NFC East (*mindblown*), Chargers-Redskins might be the most important game of the day tomorrow.
On to the picks . . .
Chargers -1.5 over REDSKINS: I just don't trust Washington getting less than a FG. This is Philip Rivers' last stand, and I think he knows it.
Titans - 3.5 over RAMS: Tennessee fighting for their playoff lives. Rams have written off the season.
JETS + 5.5 over Saints (Saints to win): Far bigger game for the Jets than the Saints. Vegas overreaction to last week's shellacking at the hands of Cincinnati.
COWBOYS - 10.5 over Vikings: Speaking of teams who have written off the season. And Dallas, for all its mediocrity, does pretty well in blowing out bad teams.
Chiefs - 3.5 over BILLS: EJ or no EJ, KC's unbeaten streak rolls out.
PANTHERS - 7.5 over Falcons: So many of these picks have been a pick against a really bad team. The Falcons definitely qualify, with last week's stinker against Arizona showing exactly what they're capable of on the road.
RAIDERS - 2.5 over Eagles: I saw the Eagles in person last week. They're worse than Atlanta.
SEAHAWKS - 16.5 over Bucs: The Bucs might be worse than Philly.
BROWNS +2.5 over Ravens (Browns to win): Emotional game for Cleveland. Baltimore went into last week's bye with a bad taste in their mouths. We'll see how they react -- I think poorly.
PATRIOTS - 6.5 over Steelers: Another decent team beating a really bad team. Pittsburgh has problems in all facets.
Colts - 2.5 over Texans: Seriously, this is easy.
Bears + 10.5 over PACKERS (Packers to win): Chicago should keep this one close. At some point, the injuries are going to catch up to Green Bay.
Facebook.com/BackupQuarterbackBlog
Twitter.com/TheBackupQB